Our Everyday Wellness Hemp Pellets are recommended to support:
Calm & Focus

Healthy Joints

Normal Inflammatory Response

Immune Support

Healthy Skin & Coat

Helps to increase appetite

Helps to put weight on hard keepers, as they are often nervous animals and will benefit from a sense of calm
Everyday Wellness Hemp Pellets are a perfect choice for our athletic animals, aiding in Performance, Endurance & a Quick Recovery!
PRODUCT FACTS 
Per dose (9 g/scoop) 
Full Spectrum Hemp 
Total Cannabinoids (includes naturally occurring CBD) 190 MG
INACTIVE INGREDIENTS: Apple Cinnamon Flavoring, Rice Bran 
DIRECTIONS FOR USE: 
Horses 800-1200 lbs.: 1 scoop, given morning & night with their feed.
Minis & Ponies: 1/4 scoop, twice a day.
For larger or smaller horses, adjust accordingly. Depending on the symptoms you're treating, some horses may need less and some may require more.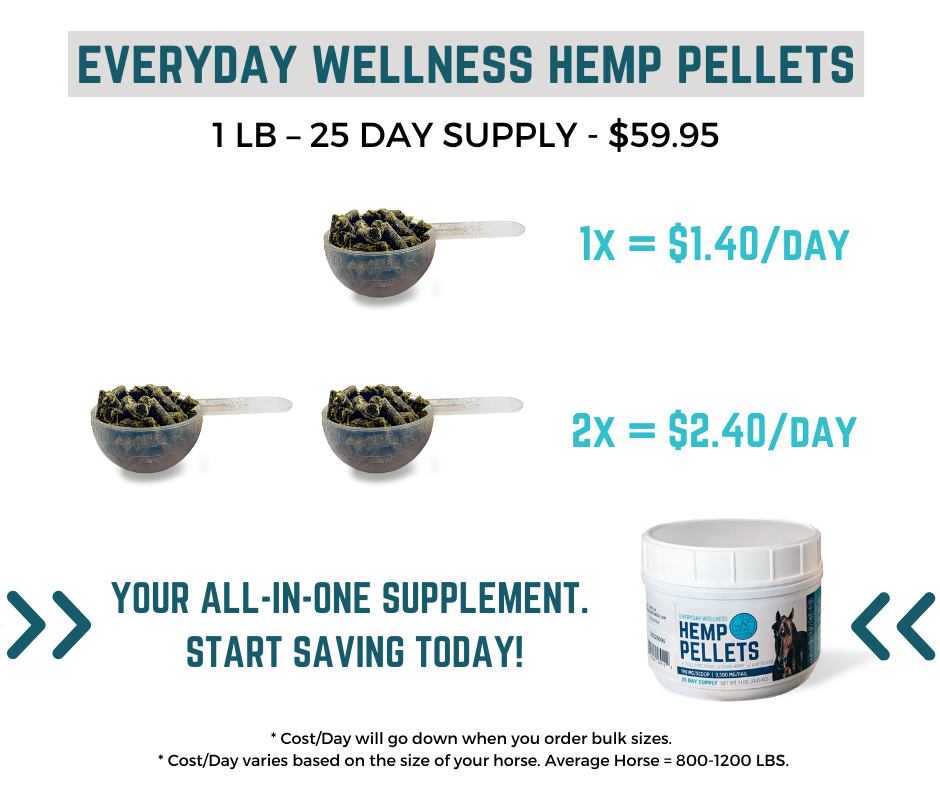 COMPETITION / SHOW HORSES: 
If you're showing in an industry that tests for THC or CBD, it's recommended to stop feeding 7 days before a competition. There will be residual benefits still present in the horse.
CAUTIONS: If animal's condition worsens or does not improve, stop product administration and consult your veterinarian. Safe use in pregnant animals or animals intended for breeding has not been proven.
WARNINGS: For animal use only and not for human consumption. Keep out of reach of children and animals. In case of accidental over dose, contact a health professional immediately.
* These statements have not been evaluated by the Food and Drug Administration. This product is not intended to diagnose, treat, cure or prevent any disease.
Please note: This product is not available for sale or shipment, for use on horses, into California.
Create Healthy Habits and Get Your Best Ride!